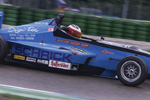 With his second place behind Bastian Kolmsee in the penultimate season round of the Formula Volkswagen supported by ZF Sachs at the Motopark Oschersleben, Dutch driver Jaap van Lagen claimed the championship title. Jeff Raach, who
finished third on Saturday, won the final round on Sunday, ahead of Bastian Kolmsee and Hannes Lachinger. Qualifying race 1: Bastian Kolmsee claimed the first pole-position of his career. With his fastest lap time of 1.25.377 minutes, he was 0.131 seconds faster than Jeff Raach from Luxemburg. The latter's team-mate Jaap van Lagen qualified third ahead of Hannes Lachinger. Qualifying race 2: This time, Jeff Raach was fastest in practice ahead of Kolmsee, Lachinger and Bylitza. Points leader Jaap van Lagen was only fifth.
Race 1: Pole-sitter Bastian Kolmsee had the best start and took the lead from Jeff Raach, Jaap van Lagen and Hannes Lachinger. This time, Florian Stoll and Jan Seyffarth couldn't get a good result: both collided at the end of the first lap and could only re-join at the back of the field. Van Lagen was on his way up. Firstly, he overtook his team-mate Raach and then made himself on the way to race leader Kolmsee. On lap eight, Aki Rask and Fredy Barth collided at the chicane, both drivers retired. The two team-mates Steffi Halm and Florian Stoll showed a spirited fight for seventh place over many laps, but Halm successfully defended her position. Out in front, van Lagen closed in on Kolmsee more and more and put plenty of pressure on the race leader. Kolmsee, however, didn't make any mistakes and drove his second season victory home. With his second place, Van Lagen secured himself the championship title, while Jeff Raach was on the podium for the first time.
Race 2: This time, it was Jeff Raach who made the best use of his pole-position. He took the lead from Bastian Kolmsee and Hannes Lachinger. Marvin Bylitza was fourth from Jaap van Lagen. In an attack, the Dutchman almost went off the track, but managed to keep control over his car. One lap later, van Lagen overtook Bylitza, however had to give up his gained position again soon after that. On lap four, Aki Rask and Jan Seyffarth retired after a collision. Markus Steinel attacked fifth-placed
van Lagen, but the Dutchman retained his position. Out in front, the order remained unchanged, too: Jeff Raach completed his laps in a dominant way ahead of Kolmsee and Lachinger. Thus, the driver from Luxemburg managed to secure his maiden victory from the Kolmsee and Bylitza.
Result 13th round, Motopark Oschersleben, October 11, 2003 (18 laps)
1. Bastian Kolmsee (Wiehl/D) in 26:11.119 min.
2. Jaap van Lagen (Netherlands) 0.280 down
3. Jeff Raach (Luxemburg) 5.499
4. Hannes Lachinger (Austria) 10.962
5. Marcel Leipert (Wegberg/D) 11.473
6. Marcus Steinel (Ammerbuch/D) 33.010
7. Stephanie Halm (Ammerbuch/D) 41.740
8. Florian Stoll (Rickenbach/D) 41.978
9. Jochen Nerpel (Waibstadt/D) 50.011
10. Siu-Kuen Chan (China) 55.478
Fastest lap: Jaap van Lagen in 1.26.159 min = 153.219 km/h
Result 14th round, Motopark Oschersleben, October 12, 2003 (18 laps)
1. Jeff Raach (Luxemburg) in 26.10.125 min.
2. Bastian Kolmsee (Wiehl/D) 3.192 down
3. Marvin Bylitza (Marl/D) 5.234
4. Hannes Lachinger (Austria) 7.257
5. Jaap van Lagen (Netherlands) 10.163
6. Marcus Steinel (Ammerbuch/D) 11.758
7. Jochen Nerpel (Waibstadt/D) 21.075
8. Marcel Leipert (Wegberg/D) 25.220
9. Florian Stoll (Rickenbach/D) 28.660
10. Stephanie Halm (Ammerbuch/D) 42.090
Fastest lap: Marvin Bylitza in 1.26.427 = 152.744 km/h
Points' standings:
1. Jaap van Lagen 336
2. Hannes Lachinger 277
3. Bastian Kolmsee 208
4. Marcel Leipert 177
5. Florian Stoll 176