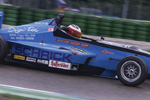 3rd/4th round Formula Volkswagen supported by ZF Sachs, Hockenheim, June 14/15, 2003
Lachinger and van Lagen win at Hockenheim
Austrian Hannes Lachinger won the third season round of the Formula Volkswagen supported by ZF Sachs at the Hockenheimring Baden-Württemberg from Jaap van Lagen and Markus Steinel. In the fourth round of the season, Lachinger retired, while victory went to van Lagen, who could extend his championship lead. The remaining podium places were occupied by Stefan Tiesmeyer and Marcel Leipert. Qualification race 1: Hannes Lachinger claimed first place on the starting grid for the race on Saturday. The Austrian drove a fastest lap time of 1.41,138 minutes. Stefan Tiesmeyer qualified second from his Dutch team-mate Jaap van Lagen, but after a delay, he had to start the race from the pit lane. Jochen Nerpel occupied fourth position on the grid.
Qualification race 2: With his fastest time of 1.41,479 minutes, points leader Jaap van Lagen was fastest in qualifying for the race on Sunday. Like on Saturday already, Tiesmeyer occupied second place from Marvin Bylitza and Jochen Nerpel. Race 1: At the start, pole-sitter Lachinger took the lead from van Lagen, Kolmsee and Steinel. On the first lap, Kolmsee had to let his team-mate Steinel past because of gearshift problems. Swiss Fredy Barth, who was initially sixth, dropped back to 13th after an excursion.
Ronny Wechselberger and Jochen Nerpel, too, had to give up their hopes for a good result after spins during the course of the race. Out in front, the order remained unchanged: Lachinger was leading from van Lagen, Steinel and Kolmsee. In the closing stages, van Lagen came closer and closer to the race leader, but didn't take any unnecessary risks and finally made do with second place. Victory went to Hannes Lachinger, Marcus Steinel came home in third place from Kolmsee. Stefan Tiesmeyer came home in tenth, a reward for the overtaking race he had started from the pit lane. Race 2: In a dominant manner, Jaap van Lagen led all the way through the second race and claimed his third season victory. His margin over the second-placed driver, his own team-mate Stefan Tiesmeyer, was more than eight seconds. Hannes Lachinger, the winner of the day before, already had to retire on the first lap after a collision with Florian Stoll. For Stoll, the race was over one lap later after another excursion. Stefan Tiesmeyer initially had to fight hard for his second place. Race leader van Lagen could benefit from Tiesmeyer's battles with Jochen Nerpel and Bastian Kolmsee and extend his margin in the lead more and more. Behind van Lagen, Tiesmeyer came home second, with third place for Marcel Leipert.
Result 3rd round, Hockenheimring, June 14, 2003 (13 laps)*
1. Hannes Lachinger (Austria) in 23:22.751 min.
2. Jaap van Lagen (Netherlands) + 00.345 down
3. Markus Steinel (Ammerbuch/D) 10.543
4. Bastian Kolmsee (Wiehl/D) 18.067
5. Marvin Bylitza (Marl/D) 19.299
6. Florian Stoll (Rickenbach/D) 22.663
7. Marcel Leipert (Wegberg/D) 24.113
8. Fredy Barth (Switzerland) 24.698
9. Jan Seyffarth (Leimbach/D) 31.553
10. Stefan Tiesmeyer (Osnabrück/D) 43.718
Fastest lap: Jaap van Lagen 1.42,639 min = 160,430 km/h
Result 4th round, Hockenheimring, June 15, 2003 (15 laps)*
1. Jaap van Lagen (Netherlands) in 25:50.149 min.
2. Stefan Tiesmeyer (Osnabrück/D) + 08.196 down
3. Marcel Leipert (Wegberg/D) 11.140
4. Markus Steinel (Ammerbuch/D) 11.472
5. Ronny Wechselberger (Altlandsberg/D) 12.491
6. Jochen Nerpel (Waibstadt/D) 14.488
7. Fredy Barth (Switzerland) 16.608
8. Bastian Kolmsee (Wiehl/D) 26.273
9. Stephanie Halm (Ammerbuch/D) 31.437
10. Julia Kuhn (Herzogenrath/D) 34.989
Fastest lap: Bastian Kolmsee 1.42,480 min = 160,679 km/h
*Results remain provisional pending outcome of an appeal
Points' standings:
1. Jaap van Lagen 114
2. Stefan Tiesmeyer 75
3. Hannes Lachinger 74
4. Bastian Kolmsee 67
5. Marcel Leipert 58
6. Markus Steinel 57