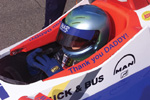 Dutch driver Jaap van Lagen won both rounds at the season opener of the Formula Volkswagen supported by ZF Sachs at the Motopark Oschersleben. On Saturday, Stefan Tiesmeyer and Hannes Lachinger finished second and third, on Sunday, the podium was completed by Lachinger and Bastian Kolmsee. The weekend also saw the debut in the category of two Chinese drivers, Shao Quan Chen and Tengyi Jiang. Their best result was eleventh place for Shao Quan Chen in the second race, with both the car and the track being new to him. Qualifying 1: In qualifying for the race on Sunday, Jaap van Lagen set the fastest time with 1.25.441 minutes. Hannes Lachinger however only was 0.033 seconds down. Third place was occupied by Bastian Kolmsee. The result of qualifying showed how close competition in the Formula Volkswagen supported by ZF Sachs is: the first eleven drivers were within nine tenths of a second. Fastest lady was Julia Kuhn in twelfth place.
Qualifying 2: In the second session, Jaap van Lagen was fastest once more. With his lap time of 1.24.526 minutes, he was almost one second faster than in the first qualifying session. Lachinger was second again, this time ahead of Stefan Tiesmeyer. Gina-Maria Adenauer qualified in twelfth place and was fastest lady. Race 1: Pole-sitter van Lagen took the lead, while his team-mate Tiesmeyer overtook Lachinger at the start. Jochen Nerpel was fourth from Bastian Kolmsee. Steffi Halm had an excellent start. Because she had an exam at school on the day before, she couldn't take part in qualifying and therefore had to start from the back of the grid. After one lap, she had already made up four positions.
Out in front, van Lagen pulled clear: he kept setting the fastest lap times in the field and after two laps, he already had a margin of 1.1 seconds. At the halfway-mark, he was almost three seconds clear of his team-mate Tiesmeyer, while Lachinger remained third. Jochen Nerpel and Bastian Kolmsee started a nice fight for fourth place. After several attempts, Kolmsee pulled through on lap twelve. Then, he quickly closed the gap to third-placed Lachinger. He put massive pressure on the Austrian, but Lachinger successfully defended his position. Thus, van Lagen won dominantly from Tiesmeyer and Lachinger.
Race 2: Once again, van Lagen took the lead from Lachinger, Tiesmeyer and Nerpel. Like on the day before, the Dutchman already pulled clear in the opening laps, while the order behind him remained largely unchanged. Hannes Lachinger kept driving fast lap times and closed up to van Lagen during the course of the race. The Dutchman, however, didn't make any mistakes and defended his position. Marvin Bylitza and Fredy Barth showed a nice duel. Eventually, the Swiss had the upper hand and then started catching up to sixth-placed Florian Stoll, whom he also overtook one lap later. Eventually, van Lagen secured himself his second win in a row from Lachinger and Kolmsee.
Result 1st round, Motopark Oschersleben, May 3, 2003 (18 laps)
1. Jaap van Lagen (Netherlands) in 25.58.590 min.
2. Stefan Tiesmeyer (Germany) 3.513 down
3. Hannes Lachinger (Austria) 5.265
4. Bastian Kolmsee (Germany 5.683
5. Jochen Nerpel (Germany) 11.371
6. Markus Steinel (Germany) 12.185
7. Fredy Barth (Switzerland) 12.599
8. Florian Stoll (Germany) 12.894
9. Ronny Wechselberger (Germany) 18.293
10. Marvin Bylitza (Germany) 19.248
Fastest lap: Jaap van Lagen 1.25.413 min = 154.557 km/h
Result 2nd round, Motopark Oschersleben, May 4, 2003 (18 laps)
1. Jaap van Lagen (Netherlands) in 25.52.237 min.
2. Hannes Lachinger (Austria) 1.475 down
3. Bastian Kolmsee (Germany) 6.203
4. Jochen Nerpel (Germany) 13.430
5. Stefan Tiesmeyer (Germany) 22.511
6. Fredy Barthl (Switzerland) 24.082
7. Marcel Leipert (Germany) 30.609
8. Ronny Wechselberger (Germany) 33.021
9. Florian Stoll (Germany) 42.440
10. Marvin Bylitza (Germany) 43.071
Fastest lap: Hannes Lachinger 1.25.580 min = 154.256 km/h
Points' standings:
1. Jaap van Lagen 60 11. Markus Steinel 20
2. Hannes Lachinger 44 12. Jan Seyffarth 16
3. Stefan Tiesmeyer 40 13. Gina-Maria Adenauer 16
4. Bastian Kolmsee 37 14. Shao Quan Chen 15
5. Jochen Nerpel 33 15. Julia Kuhn 14
6. Fredy Barth 29 15. Stephanie Halm 14
7. Ronny Wechselberger 25 17. Tengyi Jiang 4
7. Florian Stoll 25
9. Marcel Leipert 24
10. Marvin Bylitza 22