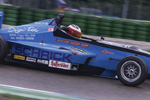 Ronnie Quintarelli and Florian Stoll were the winners of season rounds eleven and twelve of the Formula Volkswagen supported by ZF Sachs at the Nürburgring. On Saturday, Marko Nevalainen and Marvin Bylitza occupied the remaining podium places. On Sunday, Quintarelli came home in second place from Sven Barth.
For the third time this season, points leader Sven Barth qualified fastest with his
lap time of 1.28.642 minutes. Ronnie Quintarelli, his closest rival in the
championship standings, claimed second place on the grid at the sprint circuit of the Nürburgring, with Bastian Kolmsee in third and local hero Marvin Bylitza in
fourth position.
11th round (Saturday, September 21):
Quintarelli had a good start, but under braking for the first corner, pole-sitter Sven Barth claimed the lead. After a few yards already, Bastian Kolmsee was involved in a collision, in which he lost the front wing of his car. Jeff Raach and Eric Groes collided as well, which forced Groes to retire while Raach dropped back to tenth.
Unaffected by all the action, Sven Barth completed his laps out in front, but then
was given a stop-and-go-penalty by the clerk of the course for jumping the start.
Thus, Ronnie Quintarelli inherited the lead from Marvin Bylitza and Marko
Nevalainen. Soon after that, an exciting battle started between the German and
the Finn. On the twelfth lap, Nevalainen was successful after several attempts and overtook Bylitza on the first corner. In spite of fast lap times, Nevalainen didn't manage to close up to Quintarelli and thus, the Italian went on to win from the Finn. Marvin Bylitza came home in third place, claiming his first podium finish of the season.
12th round (Sunday, September 22):
Quintarelli took the lead ahead of Florian Stoll and Marko Nevalainen. Marvin
Bylitza was driving behind the top three, but soon closed up to third-placed
Nevalainen. Team-mates Bastian Kolmsee and Sven Barth drove in fifth and sixth place. On lap ten, there was a lead change: after several attempts, Florian Stoll outbraked erstwhile leader Ronnie Quintarelli and thus took first place. Sven Barth also showed an inspired drive: firstly, he overtook his team-mate Kolmsee, then he went past Bylitza and was already fourth. Soon after that, he also overtook Marko Nevalainen and claimed third place. The order remained like that until the end: Florian Stoll celebrated his first victory of the season from Ronnie Quintarelli and Sven Barth.
Result 11th round, Nürburgring, September 21, 2002 (18 laps)
1. Ronnie Quintarelli (Italy, www.penker-racing.com) in 27.09.984 minutes
2. Marko Nevalainen (Finland, Matson Motorsport) 2.247 beh.
3. Marvin Bylitza (Marl/D, Motorsp. Akademie Nürburgr.) 5.280
4. Florian Stoll (Rickenbach/D, Stoll Motorsport) 10.766
5. Elran Nijenhuis (Netherlands, Rhein-Ahr Racing) 20.797
6. André Scheidegger (Switzerland, Reinert Motorsport) 31.490
7. Thomas Mühlenz (Köln/D, Reinert Motorsport) 35.327
8. Jeff Raach (Luxemburg, Rhein-Ahr Racing) 1.01.359
9. Sven Barth (Gorxheimertal/D, Interwetten Racing) 1.05.413
10. Joel Schuybroek (Belgium, Volkswagen Racing) one lap
Fastest lap: Marko Nevalainen in 1.29.419 min = 145.942 km/h

Result 12th round, Nürburgring, September 22, 2002 (18 laps)1. Florian Stoll (Rickenbach/D, Stoll Motorsport) in 27.03.413 minutes
2. Ronnie Quintarelli (Italy, www.penker-racing.com) 0.481 beh.
3. Sven Barth (Gorxheimertal/D, Interwetten Racing) 6.390
4. Marko Nevalainen (Finland, Matson Motorsport) 10.032
5. Marvin Bylitza (Marl/D, Motorsp. Akademie Nürburgr.) 14.147
6. Thomas Mühlenz (Köln/D, Reinert Motorsport) 20.829
7. Bastian Kolmsee (Wiel/D, Interwetten Racing) 20.992
8. Eric Groes (Belgium, HG Müller Sports) 22.892
9. André Scheidegger (Switzerland, Reinert Motorsport) 27.483
10. Joel Schuybroek (Belgium, Volkswagen Racing) 30.438
Fastest lap: Sven Barth in 1.28.882 = 146.824 km/h
Points' standings:
1. Ronnie Quintarelli 242
2. Sven Barth 226
3. Florian Stoll 190
4. Marko Nevalainen 170
5. Bastian Kolmsee 165
6. Marvin Bylitza 154