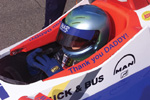 EuroSpeedway Lausitz, August 31/September 1, 2002 Sven Barth wins both races in the Lausitz Sven Barth won season rounds nine and ten of the Formula Volkswagen supported by ZF Sachs at the EuroSpeedway Lausitz and took the lead in the championship from Italian Ronnie Quintarelli, who finished second from Bastian Kolmsee in both races.
Sven Barth was fastest in qualifying. His lap time of 1.44.809 minutes resulted into his second pole position of the current season. Points leader Ronnie Quintarelli, who returned to the series at the Lausitzring, was second fastest. However, the Italian was 0.124 seconds slower than Barth. Third in qualifying was Bastian Kolmsee, followed by Jeff Raach from Luxemburg. 9th round (Saturday, August 31):
At the start, Quintarelli established a little advantage and took the lead. Barth slotted in in second place from Raach and Kolmsee and put massive pressure on race leader Quintarelli. The Italian made no mistake and defended his position.
At the start of the ninth lap, Barth's attacks finally were successful: under braking before the first corner, he went past Quintarelli and immediately built up a slight margin. Behind them, there was another position change, as Kolmsee outbraked
Raach and claimed third place. Soon after that, Raach lost another position to Marvin Bylitza. While Barth pulled more and more clear out in front, Quintarelli came under pressure from Bastian Kolmsee in the closing stages of the race, but still managed to defend his second place. In a dominant way, Sven Barth drove home his third victory of the season from Qunitarelli and Kolmsee, Marvin Bylitza finished fourth.
10th round (Sunday, September 1):
Barth won the start duel from Quintarelli, Kolmsee and Bylitza. Soon, Kolmsee attacked second-placed Quintarelli, from which Barth could benefit and pull clear a little. The first four drivers shone with fast lap times, but this didn't result into any position changes. Bad luck for team mates Florian Stoll and Daniel la Rosa, who collided in a duel. This meant the end of the race for both of them. Highlight of the second half of the race surely was the battle for second between Quintarelli and
Kolmsee, with the Italian successfully defending his position from all the attacks by the German. Thus, Barth eventually won from Quintarelli and Kolmsee, which allowed him to take the lead in the championship.
Result 9th round, EuroSpeedway Lausitz, August 31,2002 (16 laps)
1. Sven Barth (Gorxheimertal/D) in 28.19.841 min.
2. Ronnie Quintarelli (Italy) 4.824 beh.
3. Bastian Kolmsee (Wiehl/D) 5.100
4. Marvin Bylitza (Marl/D) 8.527
5. Jeff Raach (Luxemburg) 11.478
6. Florian Stoll (Rickenbach/D) 13.813
7. Marko Nevalainen (Finland) 14.302
8. Stefan Tiesmeyer (Osnabrück/D) 16.649
9. Elran Nijenhuis (Netherlands) 19.027
10. Daniel la Rosa (Hanau/D) 19.714
Fastest lap: Sven Barth in 1.44.897 min = 155,604 km/h
Result 10th round, EuroSpeedway Lausitz, September 1, 2002 (16 laps)
1. Sven Barth (Gorxheimertal/D) in 27.53.115 min.
2. Ronnie Quintarelli (Italy) 2.319 zurück
3. Bastian Kolmsee (Wiehl/D) 2.435
4. Marvin Bylitza (Marl/D) 7.169
5. Jeff Raach (Luxemburg) 11.404
6. Elran Nijenhuis (Netherlands) 14.473
7. Marko Nevalainen (Finland) 16.149
8. Michael Stephen (South Africa) 19.897
9. Christian Gratl (Italy) 28.237
10. Eric Groes (Belgium) 41.897
Fastest lap: Sven Barth in 1.43.662 = 157,458 km/h
Points' standings:
1. Sven Barth 194
2. Ronnie Quintarelli 188
3. Bastian Kolmsee 151
4. Florian Stoll 143
5. Stefan Tiesmeyer 133
6. Marko Nevalainen 129
Formula Volkswagen supported by ZF Sachs on television: DSF, Sunday,
September 1, 16.00, Tuesday, September 3, 22.30 Motodrom; Ntv Speed,
Monday, September 2, 16.25; MDR, Sunday, September 1, 19.20; HR,
Saturday, Sepember 7, 17.25