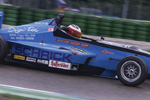 Local hero Walter Lechner jr. celebrated two victories during his guest appearance in the Formula Volkswagen supported by ZF Sachs at the Salzburgring. On Saturday, the champion of the previous year won from Stefan Tiesmeyer and Florian Stoll, one day later, he came home in the rain in front of Belgian Eric Groes and Dutchman Elran Nijenhuis.
In qualifying, Walter Lechner jr. set the fastest lap time of 1.22.372 minutes. At the 4.325 kilometres long high speed track near the festival city, he was no less than 0.654 seconds faster than second-placed Florian Stoll. Stefan Tiesmeyer was third in the qualifying session.
7th round (Saturday, August 10):
At the start of the race, pole-sitter Walter Lechner took the lead from Florian Stoll and Bastian Kolmsee. For two competitors, the race was already over after a few metres: Sven Barth and Gottfried-Armin Grasser severely damaged their cars in a start crash. In the lead of the field, Lechner pulled clear. Behind him, Stefan Tiesmeyer took second place in the first part of the race and then pulled a little gap to the rest of the field. In the exciting fight for third place, there were several position changes between Florian Stoll and Bastian Kolmsee. Halfway through the race, Marvin Bylitza was involved in the action as well. In a dominant way, Lechner secured victory from Stefan Tiesmeyer and Florian Stoll.
8th round (Sunday, August 11):
The notorious Salzburg drizzle made conditions quite difficult for the competitors
on Sunday. At the start, Lechner took the lead from Stoll and Tiesmeyer. The latter mwas overtaken by Marvin Bylitza while still on the first lap. After his retirement on the day before, Sven Barth showed a strong recovery: after three laps, he was already sixth behind Belgian Eric Groes, but then lost several places after a mistake later in the race. At the halfway point, Stoll made a mistake and had to let Bylitza and Groes past. On the remaining laps, Stoll dropped back more and more. Eric Groes showed a strong performance and claimed second place soon after that. After an exciting fight for third, Elran Nijenhuis had the upper hand over Marvin Bylitza. Walter Lechner jr. drove his second consecutive victory home from Groes, Nijenhuis and Bylitza, Marko Nevalainen occupied the strongly contested fifth place.
Result 7th round, Salzburgring/A, August 10, 2002 (19 laps)
1. Walter Lechner jr. (Austria) in 26.31.254 min.
2. Stefan Tiesmeyer (Osnabrück/D) 6.155 behind
3. Florian Stoll (Rickenbach/D) 7.533
4. Bastian Kolmsee (Wiehl/D) 7.847
5. Elran Nijenhuis (Netherlands) 8.295
6. Marvin Bylitza (Marl/D) 10.287
7. Michael Stephen (South Africa) 12.183
8. Jeff Raach (Luxemburg) 12.593
9. Christian Wolff (Austria) 15.054
10. Eric Groes (Belgium) 18.101
Fastest lap: Walter Lechner jr. in 1.22.777 min = 184.182 km/h
Result 8th round, Salzburgring/A, August 11, 2002 (14 laps)
1. Walter Lechner jr. (Austria) in 21.39.377 min.
2. Eric Groes (Belgium) 12.619 behind
3. Elran Nijenhuis (Netherlands) 15.552
4. Marvin Bylitza (Marl/D) 17.309
5. Marko Nevalainen (Finland) 19.665
6. Bastian Kolmsee (Wiehl/D) 20.340
7. Jeff Raach (Luxemburg) 24.748
8. Rob Nguyen (Australia) 32.354
9. Stefan Tiesmeyer (Osnabrück/D) 32.547
10. Sven Barth (Gorxheimertal/D) 37.819
Fastest lap: Walter Lechner jr. in 1.31.465 = 166.687 km/h
Points standings:
1. Ronnie Quintarelli 140 points
2. Sven Barth 134
3. Florian Stoll 128
4. Daniel la Rosa 116
5. Stefan Tiesmeyer 111
6. Bastian Kolmsee 111